For those who want to see what my mug shot looks like, here you go: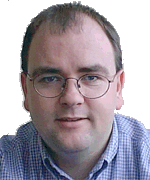 I grew up in a small village called Ballygarrett in County Wexford in the south east corner of Ireland. I got my honours degree in Electronic Engineering from Dublin City University in 1993.
From 1993 to 2005, I worked as a software developer and Chief Technical Architect for Soft-ex (formerly Softech Telecom) in Leopardstown, Co. Dublin. Soft-ex specialise in producing telecommunications costing software. I was involved in the development of a number of their products including Ringmaster for Windows, Ringmaster 2000, iCMS and Ringmaster IMS.
In June 2005, I've setup "Naughter Software" and worked as an independent software developer specialising in Windows development. For examples of my coding and areas of expertise, please browse the shareware and freeware sections of this site.
Since February 2013, I am working as a senior software engineer with UL Identity Management & Security (formerly Acquirer Systems) in Dublin.
In 2000, I've moved back down to the country-side, after living in Dublin for 10 years. Here's a picture of my house: