IconComboBox v1.03 A collection of icon selection combo box classes
This is a set of freeware MFC combo box classes which allow an icon to be choosen graphically. The classes are derived from CComboBox and when used appears as follows: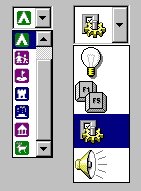 The enclosed zip file contains the IconComboBox source code and a simple test program to exercise the classes.
Copyright
You are allowed to include the source code in any product (commercial, shareware, freeware or otherwise) when your product is released in binary form.
You are allowed to modify the source code in any way you want except you cannot modify the copyright details at the top of each module.
If you want to distribute source code with your application, then you are only allowed to distribute versions released by the author. This is to maintain a single distribution point for the source code.
Updates
V1.03 (24 December 2018)
Updated copyright details.
Fixed a number of C++ core guidelines compiler warnings. These changes mean that the code will now only compile on VC 2017 or later.
V1.02 (29 December 2016)
Updated copyright details.
Replaced all occurrences of NULL with nullptr throughout the codebase.
Updated the code to clean compile on VC 2010 to VC 2015. The code now requires VC 2010 at a minimum.
Reworked the CSmallIconComboBox and CLargeIconComboBox classes to use a new CIconComboBox base class which supports arbitrary sized icons.
V1.01 (12 September 1998)
Removed some files from the workspace which were not being used.
Updated workspace to use folders.
Added AddString, InsertString & DeleteString functions. These functions ASSERT to ensure that the icon combo box operates correctly.
Added DeleteIcon function. This should be called instead of DeleteString.
Modified internal implementation of InsertIcon & AddIcon for both classes.
Tidied up some of the help documentation.
V1.0 (25 August 1998)