CMapPin v1.06 An MFC class to implement Map pins
Welcome to CMapPin, an MFC classes to provide map pins useful in GIS applications. Here's a small sample of what the map pins look like when overlaid on a bitmap map: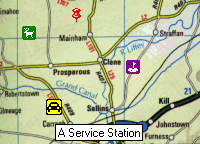 Features
Standard CWnd derived class which can be used just like any other MFC control classes (e.g. CStatic) which are derived from CWnd.
Support for tooltips, drag / drop and context menus is built in.
For further customization, you can derive a class from it
The class is fully Unicode compliant and includes Unicode built options in the workspace file.
The enclosed zip file contains the CMapPin source code and a simple test program to exercise the class.
Copyright
You are allowed to include the source code in any product (commercial, shareware, freeware or otherwise) when your product is released in binary form.
You are allowed to modify the source code in any way you want except you cannot modify the copyright details at the top of each module.
If you want to distribute source code with your application, then you are only allowed to distribute versions released by the author. This is to maintain a single distribution point for the source code.
Updates
V1.06 (30 December 2018)
Updated copyright details.
Fixed a number of C++ core guidelines compiler warnings. These changes mean that the code will now only compile on VC 2017 or later.
V1.05 (31 December 2016)
Updated copyright details.
Updated the sample apps main icon
Replaced all occurrences of NULL with nullptr throughout the codebase
Updated the code to clean compile on VC 2010 to VC 2015. The code now requires VC 2010 at a minimum.
Added SAL annotations to all the code
V1.04 (24 March 2001)
Updated copyright information
Fixed a redraw problem in OnMouseMove & SetIcon.
V1.03 (1 August 2000)
Updated the sample app so that the sample bitmap leinster.bmp is now included in the project as a resource instead of loading it from disk at runtime, which was causing problems when you built the Release version of it.
Updated sample app's view to avoid flickering.
Removed unnecessary toolbar items from the sample app
V1.02 (12 June 2000)
Now WM_COMMAND mesages are correctly sent to the parent window when the mappin button is clicked.
V1.01 (12 September 1998)
Fixed a small redraw glitch in SetIcon.
V1.0 (13 May 1998)